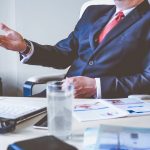 If your business has decided to invest time and money in attending a trade show, the success of this attendance can depend on various factors – the look of your booth (which our range of exhibition display stand solutions can take care of), your trade show booth staff and finally, how they are managed. In our previous blog post we helped to shed light on who you should choose to man your exhibition stand and now it's time for the tables to turn with some tips on how to manage that chosen team.
Make your goals clear
As a senior member of team who sits in on all strategic meetings, the business goals and aims for each trade show you are attending may seem obvious to you, but it is important to ensure this information is passed on to your team to ensure they are met. Whether your main priority is to gain leads within a particular sector or to launch a new product and gain press for it, briefing staff properly can help towards making it happen.
Implement the training needed to meet these goals
Every aim will have a group of actions that lead towards its success, so you must invest in the appropriate training to arm your staff with relevant skills and knowledge. Be sure that they know your product or service thoroughly, as well as how it can benefit the sector that your chosen trade show focuses on. Identify key names that they should be speaking to, or talks and seminars where they can head to network with the right schedule.
Have a fool proof schedule (and ensure it is understood)
As well as planning strategy, good trade show booth staff management involves practical and logistical arrangements too. Create and distribute a schedule to your team, well in advance of the trade show date. Include all the details needed including travel, accommodation, details for arrival, set up, take down and departure, as well as responsibilities and timetables for the day. Giving this to your staff in good time means that there is room for re-scheduling if timetables don't suit, while also making sure it is all fully understood.
Following these simple tips can help you to lead a team that, working alongside an effective display stand design, can reach all of your professional targets at any trade show you attend. For more trade show tips, keep checking our blog.