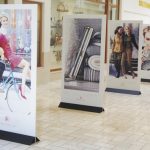 Printdesigns is causing marketing executives across the country to re-think the humble display stand as it highlights the many alternative uses for the sturdy printed graphic. Beyond the trade show booth, Printdesigns makes its case, explaining how display stands such as pop up banners are a versatile solution, listing other ways that they can support visual branding efforts and instantly make over any environment.
Mark Thompson, Co-Founder of Printdesigns said, "Banner stands and other display stands solutions have been around for years, but have fallen into the trap of being associated only with trade shows in many people's minds. Although this is a prominent use, they can bring additional value to business, being used time and time again in a number of diverse environments. Next time that printing brochure arrives on your desk it might be worth a look, rather than handing strait to your events team!"
For many B2B organisations, the in-house meeting room is an important area where relationships are formed and many sales are agreed. Maintaining a strong visual identity is important for these spaces, especially when new visitors enter business premises for the first time. Quickly displaying logo, straplines and other branding symbols, placing display stands around a meeting room can make it an inspiring environment to appropriately support the conversations they witness.
Also within the context of the head-office, banner stands placed strategically can be used as greeting and way-finding tools, making a bigger impact and appearing more visually appealing than a simple wall-mounted sign. Entire lobbies and corridors can enjoy a brand-led update with these simple, portable printed graphics.
Mark Thompson, Co-Founder of Printdesigns continued, "For those who are still struggling to see their use beyond the trade show environment, there are many other options to consider. Display stands can make the perfect backdrop to a fun novelty photo booth – something which encourages interaction at any event – while ensuring your logo and branding always remains visible on every souvenir pic!"
Display stands are a versatile tool. They bring a range of business and marketing benefits that go beyond making tradeshow booths stand out from the crowd.