We decided to share our display stand knowledge by launching a series of blog posts that highlight our exhibition stand solutions. First, we covered the roller banner, but this week we are turning our attention to the pop up stand.
Like the roller banner, the pop up stand is another well-loved and popular product and at Printdesigns we have been a leading supplier of premium pop up stands since 1999.
But what is a pop up stand?
Pop up stands are defined as a display stand solution that uses a framework which 'pops up' into a 3D structure. From here, traditional pop up stands use a heavy graphic that is attached to the frame magnetically. However, at Printdesigns we are also proud to stock TEXStyle pop up stands that use a simple, soft, lightweight tubular graphic that can glide over the frame much quicker.
Why is it good?
Pop up stands are a sturdy, reliable display stand solution that can cover a large area. With an 'invisible' magnetic fixture, the finish of the graphic appears smoother and more professional than other display stands on the market. However, compared to the roller banner, they are a little more difficult to assemble.
What are my options?
If you're looking for a display stand that appears as slick and stylish as your business, a pop up stand is the perfect solution. Here are some of our leading styles from our entire pop up stand range: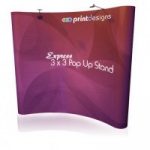 Our express pop up stand collection offers all the benefits of a standard pop up display but at a fraction of the price. Express pop up stands come in a variety of heights and widths and our smallest 3X1 express pop up display, with an assembled height of 2.25m, starts at just £390. All of these pop up stands use magnetic panels to connect the scratch-resistant graphics that are supplied with each order.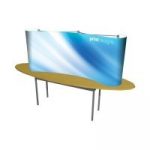 Desktop pop up stands enable you to showcase your branding professionally, even when space is limited. Rather than simply using a literature holder or a folding desktop display stand, these miniature pop up stands use magnetic strips to hold the graphic. And with prices starting at £210, this maximum impact comes at minimum cost.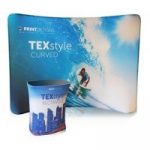 Unlike traditional pop up stands, this range of pop up displays doesn't use magnets to connect the graphics to the frame. Instead, a lightweight, washable tubular piece of fabric fits over the structure like a sock. Thanks to this display stand innovation, the graphic can be easily transported and stays looking fresher for longer, making it a great investment for any business looking for a pop up stand to see them into the future. Prices start at £450 for a curved fabric display stand, with the cost reflecting the premium quality.
If, after reading this post, you think a pop up stand is the right display stand for you, browse our full range online, our give us a call at 01285 818 111.