We've been showcasing many of our display stands in our recent blog posts, focusing on the Pop Up Stand and our range of Roller Banners. We've highlighted the benefits and uses of our most popular free standing banner stands and now, in our latest post, we're turning our attention towards a different kind of display stand entirely – our Modular Displays.
What Are Modular Displays?
Modular displays are made up for various individual components or 'modules' that can be attached together to create a display.
Why Are They Unique?
No other solution is as flexible, versatile and unique as our modular displays. By investing in a set of these units, it is possible to create a customised exhibition stand or trade show stall using as many or as few 'modules' as necessary, to suit every environment you are faced with. What's more they are lightweight and portable yet offer a professional, bespoke appearance at event you attend.
Our Modular Displays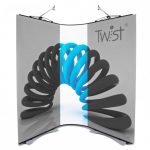 We've already touched upon this solution in a previous blog post. Read it here.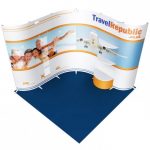 From a large, simple back wall to extras such as leaflet holders, tablets, screens and shelves, these ISOFrame Wave modular displays provide a totally customised trade show solution. Beginning with a simple starter unit, you can then purchase extension pieces to enable you to create the booth of your needs. Alternatively, investing in a ready-made kit gives you access to features such as shelves and literature holders which can then be re-used and re-assembled into different designs every time they are used.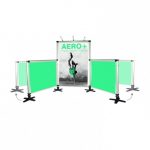 While the Twist and ISOFrame Wave range use a smooth, curved connection between each module to create the effect of one large, fluid graphic, the Aero Plus has a different aesthetic effect. Each module is its own strong, straight, freestanding banner yet they can be connected together in a number of ways. For a bold, striking look, this collection is perfect. A number of accessories such as an iPad holder, Literature Holder, LED Floodlight and more are available simply clipping onto the poles that support each modular stand.
 Every range of modular display stands we offer have their own unique qualities to suit every application, business and requirement. We understand that it can be difficult to decide which product is suited to your needs, which is why we are happy to speak to our clients to help them discover the solution that is perfect for them. Get in touch online to get expert advice from a member of our team.