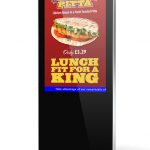 PrintDesigns predicts big changes as digital and offline marketing continue to evolve and merge.
The continued rise of digital marketing is fuelling demand for new forms of advertising display, according to printing giant PrintDesigns.
Since digital has gone mainstream, the demand for campaigns with a prominent digital element is on the rise – something PrintDesigns knows only too well. No longer viewed as the hip younger sibling of traditional forms of offline advertising and display, more and more display ads feature digital as a key factor in their success.
"It seems quite odd that digital technology has injected a new lease of life into traditional forms of marketing, but with companies focusing on all corners of the marketing spectrum, it all fits perfectly, complimenting each other to create a full campaign that really works," said Mark Thompson, Co-Founder of Printdesigns.
As a company specialising in all kinds of portable displays, including banner stands, exhibition stands and fabric displays, PrintDesigns knows a thing or two about how important offline marketing remains to companies – and consumers. The eagle-eyed customer driving past an eye-catching billboard can still be moved by great copy found outside the digital realm; but they're also unlikely to consider the major input of digital in getting that product out of the collective mind of a marketing team and into their environment.
Not only does PrintDesigns specialise in state of the art digital printing – providing the very best results with clear, crisp colour and a super-fast turnaround time – but they also have their own in-house graphic design service, creating bespoke digital artwork on demand, trusted by some of the biggest names in advertising.
While offline advertising remains appealing to many, it is also notoriously difficult to measure in terms of real success – something digital has no problem with. The continued growth of clear-cut measuring metrics for digital campaigns offers lots of opportunities for offline marketing to find increasingly novel ways to follow digital's lead.
As PrintDesigns would be more than happy to confirm – there's no reason why these two seemingly different disciplines can't work together in harmony, steaming ahead to forge a new style of marketing which offers the cosy reliability of offline media and the pioneering spirit of digital.
Whether a digital media junkie or a staunch traditionalist, the future looks increasingly bright for all forms of advertising display.