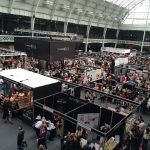 Trade show events are often packed full of other businesses and companies trying to make an impression. With such high traffic it can sometimes be difficult to stand out from the crowd. It is important to get your brand ideals across to other attendees and show them how much more you can offer by using unique and interesting marketing techniques. Here are some creative ideas which can help generate more interest in you and your brand.
Interactive exhibit
A great way to keep people's attention is to get them involved by creating an interactive exhibit. For example, why not create an interactive quiz or challenge which offers prize to successful participants?
Giveaways
People love getting free stuff, especially at events like trade shows. This opens up the opportunity to promote your brand by offering unique, memorable or unusual gifts. By giving away practical gifts, such as bags, USB drives, mouse mats, calendars and pens that carry your brand logo, visitors will have something to remember you by.
Use technology
The world has become a much more digital place over the last decade and you can use that to your advantage when setting up your exhibition stand. Featuring a tablet display or interactive screen in your stand design gives you bags of creative potential on the day. You could set up a photograph app that lets people take funny selfies, or perhaps use the digital display to live stream over your preferred social network. You could even get an app designed specifically for the event to engage with visitors and capture lead info.
Unique design
It goes without saying that professional graphics are non-negotiable but you are only limited by your imagination when it comes to what you should actually display. Why not incorporate a unique design such as a ceiling mounted display? You'll also want to use strong, bright graphics that stand out. Also consider using interactive displays such as whiteboards for people to draw on, or for your staff to present to visitors as they discuss how you can help.
Entertainment
Hiring a professional entertainer or celebrity lookalike can be a novel way to increase foot traffic and draw in a crowd. For example, you could employ a circus performer or a magician who can make a pen, with your company logo printed on it, appear from nowhere.
The exact entertainer or performer you hire will depend on your brand itself.