The print industry is fast-paced making it difficult to keep up with some of the biggest events happening within it. Printdesigns is always plugged into the latest industry happenings. Drawing on our in-depth industry knowledge we bring you the biggest print industry news stories of this September.
3D Printing in 2025 to Reach $20bn
With 3D printing becoming such a prominent force in the print industry, it comes as no surprise that it is expected to be worth more than $20bn in the next decade. The report from IDTechEx, 3D Printing 2015 – 2025: Technologies, Markets, Players predicts that the industry will go from being worth $1bn in 2012 to $20bn in 2025 due to "improvements in existing printing technologies and the development of completely new technologies."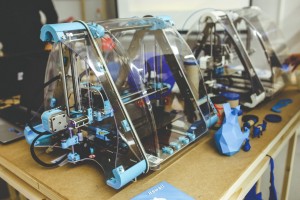 In Ten Years Canada May Have No Newspapers
With more than three local papers preparing their final issues for print, one of Canada's leading names in media economics and trends has predicted that the country may have no newspapers in a decade.
Communication Management Inc's Ken Goldstein told News 1130 that loss of revenue including ads, circulation and classifieds are all factors in his prediction. He also said that papers can't survive without a single source of revenue.
"The revenue sources that are coming into our daily newspapers are being unbundled by technology. You have a situation where over the last nine or 10 years, we've seen the combined revenue from classified advertising drop from $875 million to $175 million. To pretend that if I build a paywall — which is just another word for a subscription — around my online content, that that's going to solve the problem… it won't."
RISO UK to Unveil World First at The Print Show
RISO UK's Managing Director, Tatsuo Murakami has said that The Print Show will see the unveiling of an A2 Digital Duplicator, something he said is a "world first." Visitors to The Trade Show will have the chance to view the new A2 Digital Replicator as well as the world's fastest cut-sheet inkjet printer – the 150ppm ComColor 9150 and high-capacity feeder.
China's Manufacturing Index Falls
A key factor in China's manufacturing activity plunged to a six-and-a-half-year low this month. Adding to concerns surrounding the China's economic slowdown, the Caixin preliminary manufacturing index fell to 47 in September, down from 47.3 in August. Following the release of the data, the Australian dollar slumped in less than a minute from the US 70.85 mark to US 70.25. Find out more here.
What do you think to the events that have happened this month? Share your thoughts with us on social media!