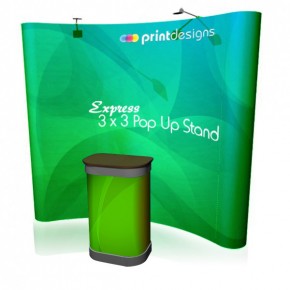 2015's exhibition season may not be totally over yet, but Printdesigns is helping businesses get the jump on next year's busy calendar, with their vast array of banner stands and exhibition displays.
The schedule for 2016 is already looking very busy, with hundreds of trade shows and exhibitions already pencilled in. But businesses that want to make the very most of their time at these events are being urged to stock up and prepare well ahead of time, to ensure they achieve their marketing goals on the big day.
With an expansive collection of roller banner stands, outdoor display stands and other exhibition solutions at low prices, Printdesigns is perfect placed to help businesses in any arena stand head and shoulders above the competition when exhibition at a trade show.
Mark Thompson, Sales Director of Printdesigns, says, "There's no such thing as too much preparation when it comes to exhibitions and trade shows. Many businesses will be finishing 2015's exhibition endeavours over the next few weeks and will be able to turn their focus to next year's events, which are already gathering momentum. We'd encourage businesses across all industries to be prepared for next year's shows ahead of time, channelling what they've learned from this year's events into more positive results than ever – and with our range of quality exhibition stands and other accessories, we can help businesses stay one step ahead of the game."
One of the most significant dates in next year's calendar is the Food & Drink Expo 2015, which also incorporates the Farm Shop & Deli Show. Taking place at the Birmingham NEC on 18th – 20th April, this show offers the number one route to the UK food and drink market, with buyers and decision-makers from all over the country in attendance. Anyone who's anyone in the food industry will be there – so businesses hoping to make a splash are urged to enter the planning phase early.
Also at the NEC Birmingham is the Bodypower UK trade show, which unites the big hitters from the world of health and fitness for a weekend-long event that is set to inspire 70,000 delegates. With international stars, industry-renowned experts and countless businesses in attendance, this is the biggest health and fitness event in the country, and any business that wants to put on a show of strength and muscle should start coordinating their marketing plan and stocking up on exhibition materials now.
In Manchester next year, the month of July is dominated by the Manchester Furniture Show – a trade show that was so successful in 2015, 70% of exhibitors had already rebooked for 2016 by the end of the event! If you're one of those who has rebooked, or if you're hoping to secure one of the coveted slots still remaining, it's important to get ahead of your rivals with plenty of preparation that will blow away the competition.