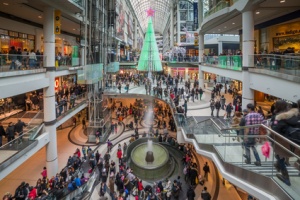 While Christmas may seem like a long way off, retailers' plans for the holiday season are already well underway. And with 33% of shoppers admitting to starting their Christmas shopping in summer, it's never too early to start marketing for the biggest season on the retail calendar. Printdesigns is helping stores stand out from the crowd with its high quality and cost effective range of promotional retail products.
Experts in innovative exhibition stands, Printdesigns offers a wide range of retail display stands including A boards, poster holders and digital display stands.
Mark Thompson, Co-Founder of Printdesigns said, "With more and more consumers turning to online shopping, it's even more critical for high street retailers to entice people into their store and encourage them to part with their cash. Eye catching display stands can be used at points of sale or around the store to highlight special offers or promote certain products businesses want to push."
The most effective choice for forward-thinking retailers is a digital display stand. Utilising digital technology is a growing way for retailers to improve the customer shopping experience as consumer behaviours change. Printdesigns' digital displays allow images and audio to be streamed together to catch the attention of passers-by. The interactive experience is far more effective than a static banner stand, and gives retailers more flexibility in what they want to promote.
A digital retail stand could feature best sellers, seasonal offers, competitions and more. Brands with a modern digital marketing strategy could invite shoppers to take photographs around the store and upload to social media or make a photographic wish list for Santa – the options are endless for creative thinking businesses.
In the run up to Christmas, a promotional banner stand can be used in a range of environments, from shopping centres to high end restaurants. Display stands can promote a seasonal menu and urge clients to book Christmas parties, or give information on the upcoming sales and opening hours.
Mr Thompson added, "It's industry standard to start advertising Christmas menus from September, and many retailers like to follow suit with their seasonal displays and offers. Now is the time to invest in your promotional materials, and with the lowest prices on the web, we're often the number one choice."