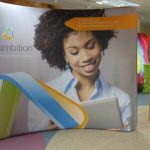 If you follow us here at PrintDesigns, you will know that we have one hero product that we are incredibly proud of! As well as producing our reliable budget banner stands, there is a new, innovative solution that is perfect for any business looking to impress and have a competitive edge at their next trade show attendance. Let us introduce you to the TEXStyle range of display stands, all produced in house here at PrintDesigns.
Why are they unique?
The TEXStyle range of exhibition stand solutions comprises of banner stands and display stands, all available in a wide range of interesting shapes such as  the 'surge', the 'concave' the 'swirl' shape and more. The most unique aspect of the TEXStyle range is the printed graphic. Rather than using delicate paper or plastic, a piece of fabric is used that is stretched over the frame, printed using dye sublimation techniques in order to display a vibrant image.
How can this help my trade show booth?
Firstly, we love these nifty TEXStyle display stands as they are incredibly simple to use. The lengthy, arduous process of connecting together confusing poles and aligning panels is reduced to two simple steps.
All of these unique exhibition stands use a lightweight tubular frame. The segments are held together with bungee cords and sticker symbols easily showing you where to place each tube. Once it has been assembled, the fabric graphic is simply stretched over the frame, much like a sock! As this is such a quick process, anyone using this fabric banner stand can enjoy more free time to ensure that the rest of their stand is perfect, or to head out and network at the event! And, once the trade show is over they are also just as fast to take down, allowing for a quick exit after a long and tiring day!
Secondly, a dull, tired and lifeless exhibition stand is no more with the TEXStyle solutions. Because of the fabric material, the graphics can be folded for easy transportation and will remain virtually wrinkle free. And the flexible nature of the material means it is much less prone to tear and accidental damage. All of the graphics and machine washable, allowing you to re-fresh your display stand every time!
Finally, the TEXStyle display stands look like no other solution on the market, and with one of these creative, curved displays no-one will be able to resist.
We produce all of our TEXStyle display stand orders in house, including the stitiching of the fabric graphic, which means we can give our customers these incredible solutions in the fastest turnaround time possible!
Are you heading to an exhibition soon? Browse the full range of these future-thinking solutions online.