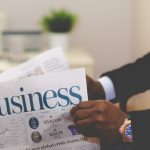 Despite concerns that the Brexit vote would negatively affect UK businesses, studies have found that the number of privately owned British companies has reached a record number this year, boosting the local economy while increasing employment within the country. A separate study, compiled by IPA and revealed exclusively by Marketing Week, also showed that the nation's marketing professionals were confident in their career prospects, also removing any concern over the impact of the leave vote. If these predictions are accurate, and these newly formed businesses are hiring marketing experts as part of their recruitment process – investing in this skill for their companies – then these businesses will surely thrive, says PrintDesigns.
The department of Business, Energy and Industrial Strategy revealed that there were approximately 5.5m private sector businesses in the UK at the start of 2016, comprising of small, medium and large sized organisations. Out of these businesses, those employing UK staff also increased for the third consecutive year in 2016. The IPA's annual Bellwether report found that around 29.5% of marketers questioned expected rates of employment to rise in their industry over the next three months.
Mark Thompson, Co-Founder of PrintDesigns said, "Traditionally when companies predict a challenging financial future, marketing can be the first area of the business to be left aside. However, recent studies suggest that these trends are changing and the importance of investing in good marketing is now understood. We are excited by this news at PrintDesigns and look forward to working with these thriving marketing teams, in a growing number of companies, to help them meet all of their professional targets and enjoy great success."
PrintDesigns is a leading supplier of custom printed promotional products, as well as premium quality retail and other display stand solutions. The company has assisted British businesses for over a decade, working closely with their marketing departments to help them boost brand visibility and communicate their strategic messages appropriately.
Mark Thompson continued, "At the heart of every profitable businesses lies a solid understanding of the role that marketing plays in enabling them to reach their consumer. If those currently operating within this sector feel confident in their career prospects, then the 5.5million businesses in the UK could too be set for a magnificent future."