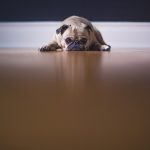 If you are in charge of ordering a new display stand, pop up banner stand, or any other kind of large format marketing material for your company it can be a very daunting task. With tight budgets and even tighter deadlines it is important to get things right first time round! The process of ordering these kinds of products can be more complicated than many people imagine, with lots of things to think about that may be new to you, especially if you aren't outsourcing your design work to a professional graphic designer and are arranging everything in house.
If guidelines for each process aren't followed effectively then unfortunately sometimes things can go wrong, and it isn't always the printing company that is to blame! To help things run smoothly next time you are given the task of arranging your companies brand new display stand, pop up banner stand, flyers or other promotional products, here is a list of the responsibilities that you, the client and us, the printer are all accountable for – if we both adhere to these rules then you will get the banner stand you dreamed of every single time!
The client
Whether you outsource your artwork to a professional designer or you create your graphics in house, it is your responsibility to ensure that whatever you send to the printer is exactly how you would like it to appear on the final product. You need to check for typos, image errors or any other faults in the artwork before you submit it. The printing company cannot be held responsible for proofing each document it is sent and can only work with the file that is given to it.
You or your designer also needs to properly understand the printing process in order to supply artwork that is compatible with the printing procedure. This includes setting up the image so that it is 300dpi (or any other resolution that a printing company requests), creating a document with the appropriate bleed setting and saving the final file out with these bleed and crop marks visible. If the job involves using an unusual material or paper to print you should also be aware that this will affect the appearance of various colours that are printed onto it.
The printer
Once given a good quality image file, the printer is responsible for ensuring that this is reproduced to an extremely high standard with good colour reproduction and registration. When packing the product, the printer must ensure that all ink is sufficiently dry to prevent any smudging or any pieces of paper sticking to each other. They must also package the product so that it will not endure any damage whilst in transit. Any trimming of the paper must also be completed to a high standard, keeping accurate to any guideline and producing a clear, sharp edge.
Ordering a high quality display stand or any other printed item is a two way partnership, and we strive towards keeping our part of the deal every time! If you have ordered a product from us and are unsure about any part of the process then our helpful team members will be happy to guide you along the way.