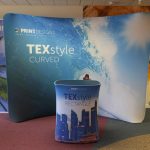 Almost every industry across the world is changing and adapting as new technological advances are developed, with medical, legal, educational organisations and more all upgrading their operations in line with digital developments. The trade show and corporate exhibition industry is also affected by an influx of new and exciting inventions. However, PrintDesigns reminds businesses of the integral role that conventional display stand solutions such as magnetic roller banners and portable banner stands play in producing an effective exhibition stand or booth.
This statement from the leading manufacturer of custom printed products comes after global event organiser, George P.Johnson predicted a wider use of Virtual Reality (VR) within the exhibition industry, noting the technology's potential for aiding the B2B market. While the use of VR within exhibition stands presents many exciting opportunities, traditional format exhibition stands such as free standing roller banners and pop up stands should still be used alongside these technologies to form a fully rounded trade show booth presence.
Mark Thompson, Co-Founder of PrintDesigns said, "Technological gadgets, such as these new, accessible VR headsets including Oculus Rift and Project Morpheus, are a great way for businesses to make their booth stand out from the crowd, offering clients a unique experience that is sure to make their brand memorable amongst its competitors. However, these tools should be used as an additional extra to a business's booth."
PrintDesigns has been working with both large corporations and SME's throughout the UK for over a decade, helping them to build a professional presence at trade shows across the world. With its range of high quality custom printed solutions, even a small booth space can be transformed to help a company achieve huge levels of business success.
Thompson continued, "Roller banners, fabric banner stands and other forms of printed display stands are the glue that holds a booth together, spreading a marketing message and building a brands visibility at an exhibition."
PrintDesigns has a range of great value bundle deals, allowing businesses on a budget to utilise its high quality solutions at an affordable price, with its flagship roller banner stands available at just £75 for two custom printed products. The established printing company also offers an innovative collection of TEXStyle fabric display solutions to create a powerful trade show booth with a difference.