When working in marketing, we know that you have a long list of purchases to pitch to your manager and finance departments when it comes to allocating your budgets. Included in this list is often things such as advertising fees, subscription to marketing tools and software, money for printed materials and costly exhibitions to plan for. At PrintDesigns, we're pleased to announce the launch of a whole host of new and exciting products that can help our clients to save money while increasing their success, and our new folded table could be the perfect tool in any marketer's toolkit. Here's why…
Great graphic coverage
When attending a trade show, you want your booth to display your company's image and message successfully in order to attract new customers, as well as maintaining brand visibility within your industry. Conventionally, display stands such as pop up banners and magnetic roller banners are used to do this. However, our new folding exhibition table comes with a full colour printed stretch fabric graphic, neatly fitting over the table and doubling up as a new kind of display stand, as well as providing a sturdy table top.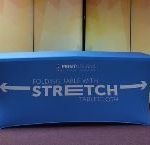 Value for money
We offer our new folding table solution for just £175 ex vat, including the full colour printing of your custom graphic design. For this price, you are getting a bold exhibition stand as well as a practical table top that provides everything you need to form a successful presence at an exhibition, all in one product. Unlike a roller banner or other form of display stand, the folding table with stretch fabric graphic is an 'all in one solution' for any trade show, exhibition or conference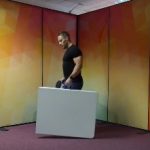 Totally portable
As the name suggests, our folding exhibition table can be folded down into a flat, portable format, with a handle to make carrying it around from exhibition to exhibition a breeze. Once the day is done, you simply need to remove the stretch fabric graphic and fold the table back down again to pack up and leave in no time at all. The lengthy process of taking down your exhibition stand is reduced to two simple steps with our folding exhibition table.
So marketing managers, next time you're stuck crunching the numbers and trying to ensure that you can meet all of your departments needs with your budget, our folding table could be the perfect solution!