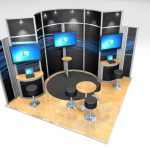 In an ideal world, your company's exhibition stand at its next big trade show event would be right in the middle, perhaps over two levels, with unlimited budget, plenty of space and huge amounts of fabulous interactive screens, promotional giveaways and other fantastic tools to help visitors feel compelled to talk to you at your booth whenever they walk past. Unfortunately, this is rarely the case, and although visits to trade shows are an important event on every businesses calendar, they also often come with tight budget controls and limited space to boot. This doesn't mean that your smaller exhibition stand can't be as effective as its larger counterparts – here's how to make your humble exhibition stand work for you…
Have a clear and consistent visual identity
With a smaller space, portraying too many messages can be confusing and largely ineffective. For a bigger impact it is important to clearly define your aims, which will then dictate the display stands, roller banners, posters and more that you will use to decorate your booth. Even if it is in a small space, if your visual identity is consistent and your marketing message is clear, then it will be received well by your peers.
Utilise what space you do have
Although your floorplan may be tiny, you can still use the space above and across your exhibition stand to really make an impact. Use your imagination to think creatively in order to utilise the space that you do have, rather than focussing on your restrictions.
Lucrative lighting
When limited on space, clever use of lighting can really make your booth stand out alongside its larger counterparts. Not only can it literally shine a light on your exhibition stand, it can also be used to highlight your graphics and to give an illusion of space!
Create a buzz before the show
If you're concerned that your exhibition stand won't be able to catch the attention of trade show visitors, use social media to generate a buzz before the event even begins. Target the clients and companies that you feel could benefit from your product or service via networking sites such as LinkedIn and invite them to come and visit your booth. Doing this, you have a steady stream of relevant visitors that will actively come to find you at your stand.
At PrintDesigns, we have been helping companies of all sizes to spread their marketing message loud and clear at tradeshows for over a decade. If you need advice or are looking for high quality banner stands, pop up banners or any other kinds of display stands, get in touch today!