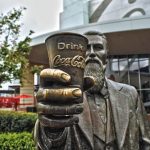 People react well to being addressed personally, and this tactic has been gaining traction in the world of marketing for many years. Now, in a hyper connected landscape where consumers are bombarded with many promotional messages every day, is your business personal enough to connect with your customer?
This emerging trend for personalisation is not surprising with a paper, 'From innovation to implementation: emerging print for packaging technologies and how to apply them' finding that personalised marketing campaigns achieve 31% better profits than general marketing materials. In addition to generating better instant results, the study also fond that customers were more loyal to a brand that used personalisation.
During 2013 and 2014, Coca Cola launched its 'share a coke' campaign, swapping its famous logo for a series of popular names printed on its label. Soon, people were heading to the shops and searching for a Coca Cola with their name on, sharing their finds on social media. As a result, Coca Cola saw 998 million impressions on Twitter, selling over 150 million bottles and over 730,000 personalised glass bottles via its online store.
While this was a huge scale campaign, leveraged by Coca Cola's already large, worldwide fan base and global visibility, taking inspiration from this and applying it to your marketing strategy could help your business to succeed, no matter how big or small it may be.
Personalisation can easily be achieved through direct mail campaigns. Addressing each of your clients personally, by office or by department rather than sending out generic letters could mean the difference between an opened or unopened envelope. However, this can be targeted even further still, by customising the content of each letter to meet the needs if its audience perfectly.
Beyond the practical application of a personalisation-based strategy, businesses can use this theory and apply it to their every day marketing. Rather than building a campaign that aims to please every member of your target audience, taking the time to highlight the specific pain points of certain segments within your customer base could build a better promotional plan.
The perfect time to do this is when visiting an exhibition or trade show. Every exhibition you attend will be targeted towards a very niche, highly focussed industry. Building your trade show strategy using knowledge of these consumers can help to make your attendance a success. After researching each specific trade show, adjust the marketing message on your exhibition stands and display stands accordingly, to truly make your business 'personal' to the show.
Next time you're planning a trade show attendance, prepare for it properly with a custom printed banner stand from PrintDesigns.