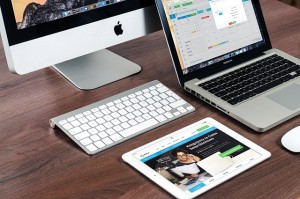 In a digitised, web-obsessed world, it's incredibly important to link face to face marketing events with technology and online marketing methods. By bringing both sides of the marketing coin together, you are engaging more potential customers and doubling your chances of making a lead.
Depending on your industry and the type of trade shows you attend, you might find it quite difficult to think of ways you can use technology throughout the exhibiting process. You need to think about all three stages – before, during and after the event to fully take advantage of every opportunity. It may not be possible to integrate technology at all levels straight away, but think about ways you might be able to introduce it in the future.
Below we have listed a few ways in which businesses can embrace technology while exhibiting. If you have any more ideas, let us know!
Before
In the run up to the event, it's important to create a buzz about your appearance – let people know in as many ways as possible, run special offers or competitions, start networking with other exhibitors you could make a relationship with. Use social media and email marketing as the main powerhouse behind your pre-event marketing. You can also start preparing anything digital you might need for the event itself, such as slideshows or DVD/USB handouts.
During
Most events have plenty of scope for including electrical and digital media. Firstly you might rent a digital display stand, which will attract attention to your booth. For data capture, using iPads for surveys or collecting information for marketing purposes shows you are a forward thinking organisation and efficient in communication. It also makes follow ups a lot easier than entering hundreds of email addresses written on paper.
After
After the event you have time to reflect on your performance and how you can improve next time. You probably have the contact details of people interested in your services – remind them who you are as they were overwhelmed with information from lots of companies on the day. Send an email, add them to your newsletter, follow them on social media. You can also write a blog post about the event for your website and share photos from the day – this way you can even reach out to people who didn't attend the event.
Follow these easy steps and you'll see that integrating technology is pretty easy, and should become a part of everyday business operations.