If you work in marketing and are currently preparing for a trade show that your company is attending, we know how much there is to think about! Between arranging the travel, logistics and building a sales pitch, you will also be designing and ordering some printed materials to form your exhibition stand. You may think to look online to order some banner stands, however when you do so you are greeted with a huge selection of the different types of banner stands on offer! Which one do you choose?
Don't worry, at PrintDesigns we have been helping businesses to achieve success at tradeshows for over 15 years, and we know a thing or two about these printed materials. Read on as we explain the differences between these types of exhibition stands, so you can decide which the best solution is for you and your company:
Roller banners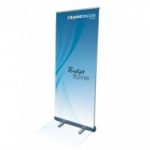 This is perhaps the most commonly used type of banner stand, favoured for its small size but big impact! A Roller banner is a low cost solution that can be assembled just as easy as it can be dismantled, using a technique that winds the printed graphic down into the base of the product. A roller banner is easily transported, securely stored inside a protective casing that can be simply carried from trade show to trade show.
Rigid banner stands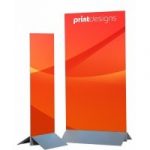 As the name suggests, rigid banner stands are not as portable as roller banners but can provide a sturdier appearance.  A printed sheet of board, ranging from 10mm-40mm thick, is held in position by a base that 'traps' the graphic, holding it in an upright position. Foamex, MDF and corrugated cardboard is often used to create the sheet used in a rigid banner stand. Although this design makes portability limited, more design options are available and the display can be personalised by connecting items such as literature holders to the actual display stand itself.
Fabric banner stand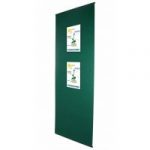 Choosing a fabric banner stand gives you ultimate flexibility, and is a great long-term investment for many companies.  A telescopic pole is used to support a fabric sheet from top to bottom as a metal foot provides stability. A plain, fabric panel can be chosen from a range of 10 colour options, and using this fabric it is possible to fasten your own printed graphic to the fabric, using hook Velcro. Either print out your own large-format graphic to cover the entire fabric display, or use the panel as a large 'notice board' to hold many smaller-form posters and graphics.
If you need more help choosing the right display stands for you, or you simply want to purchase your new banner stands, get in touch today!