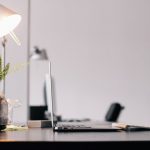 When was the last time you revamped your office? In 2017, many business owners and managers alike are understanding the importance of creating a fun and inspiring working environment, rather than one that is designed with draconian efficiency in mind! Large businesses such as Google and Innocent Smoothies are renowned for their unique approach to office design, with large budgets to facilitate this. However, a simple method such as re-using and utilising display stands is just one way to re-vamp your office without breaking the bank. Here are some more:
Add greenery
In 2017 interior trends are going back to the 70's, with large green indoor plants becoming 'en vogue' once more. As well as adding some colour to your office, investing in some indoor greenery can help to reduce stress while also improving the air quality around you! Over on Gardening Know How they have listed some of the best indoor plants to improve the office environment – take your pick and enjoy the mood-boosting benefits!
Go paperless
Many desks across the world will be cluttered with large amounts of paper in the forms of invoices, letters, industry magazines and more. Investing in a paperless strategy can rid your offices of clutter, improving the appearance of your workspaces while allowing your staff to enjoy better productivity.
Improve the lighting
Lighting is key to creating an atmosphere in any space. If any areas in your offices are dull, brighten them up with crisp white lamps to look great while keeping staff alert.
Invest in new office supplies
Starting each school term with brand new stationary was exciting for many of us growing up – this thrill doesn't die down with age! Refresh your office supplies, treating employees to new pens, notepads, post it notes and more, letting them choose their own designs and colours to help them add a little more fun to their working day!
Create a branded environment with display stands
Unleash your display stands and other exhibition stands from the dusty marketing cupboard and showcase them throughout your office. Place them in the entrance hall, in meeting rooms and in communal areas to help towards building a branded environment. As well as looking great, creating a consistent theme using your branding is also thought to motivate staff while increasing engagement in the workplace.
The future of the office is changing, paving the way for more creative, inspirational spaces. Re-using display stands and trade show materials is one way to make-over the office – how are you updating your working environment to keep up with these trends?