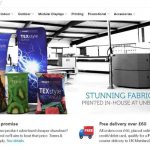 With the results of controversial political decisions unravelling worldwide, many may not be operating in 2017 with the enthusiasm that often precedes a New Year. However, after enjoying yet another winter season of successful client projects, leading custom printed marketing solutions provider, Printdesigns has a lot to look forward to in the coming months, making the imminent future an exciting one for the company. The Staffordshire based printing provider is pleased to unveil its new website, available to browse now, bringing with it a new and improved product offering, refined and developed through its years of experience serving both local SME's and large scale corporations.
After launching in 1999 as a specialist in large format digital printing and portable presentation solutions, its 15 years in operation has seen the business grow into one of the most recognised and trusted in its industry. Marking what is set to be its 18th year in operation, Printdesigns looks forward to building on its existing portfolio, meeting the needs of its clients further with its improved online portal.
Mark Thompson, Co-Founder of Printdesigns said, "After months of preparation we can't wait to reveal our new website, filled with a whole host of incredible new products to keep in line with the changing market demands. Our selection of exhibition stands and other display stand products are still widely used, but we're also aware that the trade show and marketing industry is changing. Our updated collection of customisable materials reflects this, as does our online shopping portal."
Printdesigns is the first choice for a wide range of businesses across the country due to its expertise in the area, but also thanks to an unrivalled level of service that cannot be found elsewhere. Those trusting the creation of their exhibition stands in Printdesigns know that the end product will be superior, produced using the latest industry technology and machinery that the company proudly invests in. All printing is completed in house and a huge volume of stock is always kept on site, keeping the entire process quick and controlled for a fast, quality delivery.
A folding table is amongst one of the new, versatile solutions that will soon be available from the company, as well as new fabric pop up stand system that uses silicone beads to hold the graphic in place. As the website is unveiled, Printdesigns looks forward to keeping its current clients satisfied, while welcoming on board a new wave of professional collaborations and partnerships to nurture in throughout 2017 and beyond.