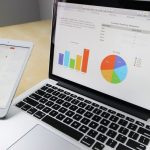 According to the DM News, event marketing is the third most common lead generation strategy – after email and content marketing, with 63% of event managers using events such as trade shows and exhibitions as an activity for lead generation.
Traditionally, methods for generating and capturing leads would involve one of these tried and tested tactics:
Setting goals and objectives
Inviting important, targeted businesses to your booth
Training your staff
Collecting business cards
Hosting competitions
Collecting contact details on forms or slips
However, in 2017 there is now an 'app for that'. In fact, there are many digital tools that can help to drive your lead generation tactics next time you are at a trade show or exhibition. iPads and tablets are fantastic accessories to add your display stand, helping to demonstrate your products and services while also aiding 'gamification' at trade shows – here are some apps that can help you generate and capture more leads, making these portable technical tools even more integral to your exhibition stand toolkit!
This useful app you to capture leads effectively. Fully customisable with your own branding, it is possible for small and large businesses alike to set up surveys to gather data about those they meet at their stand. What's more, it also has many more features such as badge scanning, business card capture, image capture, 'pick a winner' – useful for when hosting a lead-generating competition, and 'hot lead' push notifications to trigger an email to your colleagues, notifying them of a hot business prospect. iCapture is available offline, useful for when dealing with dodgy tradeshow connections!
This app, as you would imagine, enables you to seamlessly set up interactive surveys to be used on any iPhone or tablet. It has a special 'kiosk' feature, perfect for using with one of our many iPad stands and clips to add engagement to your exhibition stand. It can be used for any form of data capture, but when using this app at a trade show, it is a great tool for qualifying leads and collecting contact details.
Simple but effective, LeadPod is a barcode scanner with a difference. Once scanned, the contact data is stored safely into the password protected system. With this, your valuable lead data is secure and ready to be used once the event is over!
This app allows you to create customised data capture forms, ensuring you get the precise data you need to take action on your leads once the event is over. Customer profiles can quickly be built, ready for use by your sales or marketing team. Full CRM or ESP integration is also offered, making it easy to implement this app as part of your wider sales strategy.
Have you had any experience using apps to generate and capture lead at trade shows and conferences? Which ones worked best for you?
To integrate any tablet into your existing display stand design, get in touch with a member of our team to discover the range of iPad clips, stands and accessories we offer.