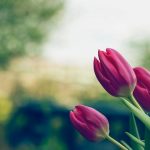 It may not feel like it, but spring is just around the corner! After making it through the winter (and all of the marketing opportunities that presents) it is time to shake-up and 'spring clean' your strategy.
Get happy!
Spring is a time for renewed vibrancy as the long, dull winter days make way for a series of brighter months. Mimic your customer's mind-set and ensure your seasonal marketing has a 'spring' in its step, spreading a fun, bright, cheery message that will resonate with consumers.
Spring cleaning
Spring is as synonymous with butterflies, chicks and lambs as it is with a mop and bucket, known for being the time of cleaning and de-cluttering. This makes for a great 'excuse' to launch a sale or giveaway, 'spring cleaning' your stock, to make way for new arrivals. (Spring cleaning your marketing department and tools such as website copy, brochures, display stands and more can also pave the way for a more successful season!)
Head outdoors
The mornings and evenings are getting lighter and the weather is (slightly) warmer, which means that it's time to start brainstorming marketing ideas that take place outdoors! Activities such as sponsoring a fun run or even organising your own outdoors event are great ways to engage with your audience. However you decide to head outside, ensure your branding is professional with our range of robust outdoor display stands.
B2B businesses – make the most of the holidays
Christmas may be the biggest holiday in many people's calendar, but there are many more seasonal events that can be utilised marketing opportunities. Spring welcomes Easter (27th March), Mother's Day (8th May) and Earth Day 22nd April), each of which can form the basis of exciting, engaging promotional activities. Running social media contests to win a gift-bag suited to each occasion can expose you to new customers while connecting further with your existing client base.
B2B businesses – embrace the new tax year
If you work with other business customers, then the start of spring also means the beginning of a new tax year. Reference this in your communications with them, offering new incentives and ways to spend their annual tax refund.
Every new season brings with it an array of creative marketing opportunities. If you're in need of new banner stands or other customer printed products to help you shake up your strategy this spring, contact a member of our team online.