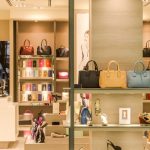 In the wake of Brexit and other controversial worldwide political movements, many UK businesses have been acting cautiously in preparation for the reaction of the consumer amidst this uncertain future. However, recent figures suggest that there is little to be worried about, for now at least, as changes in both politics and the weather bring with it a surprisingly positive outlook. Consumer spending is rising, albeit from unexpected means and with these hopeful reports, retailers can confidently invest in store refurbishments to utilise the current wave of expenditure, rather than budget crunching to survive the 'perpetual winter'.
With Brexit sending the British pound plummeting, luxury goods are flying off the shelves, bought by overseas shoppers taking advantage of the 'bargain' prices. Global market research company, GFK found that, in London, sales of watches priced at over £10,000 rose by 67% in September. Elsewhere in the country these premium goods also being sold 56 times more than in previous months. Luxury retailers aren't alone in this trend and fashion stores across the country are also experiencing a welcome boost as the change in the season causes spending to soar, in line with customer's desire for weather appropriate garments.
Mark Thompson, Co-Founder of PrintDesigns said, "2016 certainly has been an unpredictable year and as 2017 draws closer we can only imagine what this next year may bring. However, it looks like the future could be brighter than expected for retailers. They must act now to ensure that their stores are ready for the influx of shoppers, both from tourists seeking great deals but also, of course, for the shopping frenzy that our entrance into winter inevitably brings."
With the current stream of shoppers already motivated to spend, using display stand solutions such as floor standing poster holders directs customers to the best offers in the store, boosting sales further.  Investing in external solutions such as A-boards can also be useful during this lucrative season, further highlighting great deals or advertisement messages, drawing customers in to shops from the high street.
PrintDesigns' premium service has helped a wide range of retailers streamline their stores since 1999. As it launches its new website, it is set to unveil a new selection of products at the end of this year, further improving its offering to this sector in 2017.