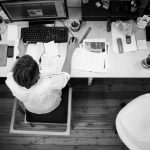 We produce a large selection of display stands and other custom printed marketing solutions at PrintDesigns, but none are as popular as the humble pop up stand. We've been providing our customers with our pop up stands since 1999 and in that time we have developed a range that covers everything from express and quick fix pop up stands to innovative TEXStyle display stand solutions. This handy, versatile promotional tool has been helping businesses to promote their brand message for a number of years, but like anything its benefits can only be utilised when they are used effectively.
If you're preparing for your next event and want to keep visitors flocking to your stand, here are some simple tips to design the perfect pop up stand to meet your needs!
Keep it simple
When you have a great service or product to promote, it can be tempting to include all of the information about it on your banner stands and pop up stands. However, this can often be detrimental to the look of your booth and it can confuse your audience. A pop up stand must showcase the core value and message of your company in order to spark initial interest. All other details can be given to interested clients via printed booklets or brochures once they start talking with your sales people.
Define your message
Similar to the point above, it is important to clarify the main message that you want your audience to know about your company when they look at your stand. This could differ slightly from trade show to trade show, depending on the audience and industry you are targeting. Think about this carefully in order to promote the right, effective message that resonates with your audience.
Use eye-catching imagery
As well as using a simple, clear, enticing message, matching this up with appropriate and eye catching imagery can help to draw eyes to your stand. Invest in some expert graphic design, or source high resolution images from stock photo websites to keep your stand looking slick and professional.
Stay on brand
Your pop up stand serves as one part of a larger marketing strategy and the design of them should be approached with this in mind. Be sure to stay in line with your company colours and branding guidelines. This will help your clients to form a strong, coherent impression of your company that will stay with them for longer.
If you've followed these tips and have a great pop up stand design that is ready to be printed, get in touch today!