Every marketing professional will be aware of the core components that are necessary for creating a successful exhibition stand, with display stand solutions such as pop up displays, roller banners and other kinds of promotional products being vital when approaching the design of your booth. However, this is only the beginning of what is available to you and there are a whole host of additional extras that you can purchase to take your exhibition stand up a notch, impressing your visitors and leading to a successful trade show attendance.
Once you've decided on your initial display stand solution, here are some more products we have on offer at PrintDesigns to boost the effectiveness of your exhibition stand.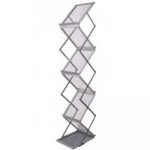 Roller banners and other display stands are great for attracting initial attention but they should never be filled with too much information. Overcrowding your roller banner graphics with too much text can be confusing and off putting to your audience. A great way to ensure that you get all your information across to those that approach your stand is to create some additional flyers and booklets, displaying them in a literature holder to encourage interaction.
Lightboxes and illuminated graphics
Using lighting effectively can help to draw attention to your stand. Take things further by using illuminated graphics in conjunction with a light box to showcase your message in an eye catching way. At PrintDesigns we can provide lightboxes in various sizes with additional full colour printed graphics, or we can supply these high quality graphics to be used on an existing light box if you have one already.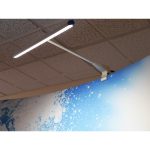 As mentioned previously, using lighting can give your exhibition stand a professional edge, highlighting particular parts of your booth and helping it to stand out against the streams of other stands competing for attention at a trade show. We have a variety of lighting solutions available to suit all budgets and requirements.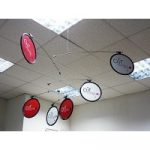 Spark interest in your brand by covering all lines of site at your next trade show by investing in some unique air displays. These reusable solutions can be suspended from any ceiling, presenting your branding and graphics in an unusual way. As well as being seen in an unexpected setting, natural airflow in most exhibition and conference halls will gently rotate the graphics, drawing the eye to them and creating interest.
If you need any further advice for producing your next unique and effective trade show booth, don't hesitate to speak to a member of our expert team. Get in touch online.