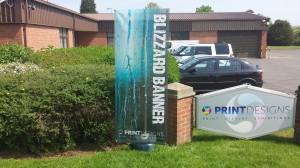 Digital printing specialists Printdesigns are urging businesses to set up shop in a muddy field and take advantage of the large crowds at festivals this year. With music lovers gearing up for a week-long party from Bestival to Benicassim, businesses are being advised to invest in specially designed outdoor display stands and large tear drop flags to stand out from the colossal crowd.
With festival numbers expected to break records, the key to planning outdoor events such as these is preparation and a clear message to convey.
Mark Thompson, Co-Founder of Printdesigns said: "Festivals are one of the best places for businesses to sell themselves to a whole new market. With a wide range of people travelling from over the globe to see some of the best acts in the world, standing out from the crowd and making that vital first impression has never been so important."
It isn't just the rain that can dampen a day. Businesses need to prepare for every eventuality such as the wind which can do as much damage as a downpour. If the weather does take a turn for the worst, marquees and gazebos are normally nearby which means outdoor signage solutions need to be practical allowing for rapid assembly and dis-assembly should the weather threaten to ruin the event.
Printdesigns have a wide range of solutions on offer for event organisers from tear drop and feather flags to sturdy A board stands. The selection of durable and eye catching stands have been specially created to survive the great outdoors.
Mark added, "Here at Printdesigns we love outdoor event season and look forward to it every year. Not only is it our busiest time, it allows us to work with a range of unique businesses, charities and individuals to find the best sway for them to stand out from the crowd."
It has never been so important to make sure that businesses are prepared for every eventuality – it is the Great British weather we are talking about after all!!