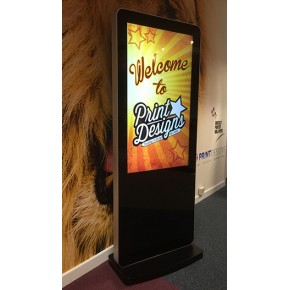 Printdesigns, specialists in digital printing and portable presentation solutions, is offering businesses away to keep their costs down as exhibition season approaches, with a range of high-end digital display stands that can be rented by the week.
The display stand, which allow users to showcase stunning HD video and images to exhibition visitors, are available to hire for just £399 – a snip compared to the £1,850.00 it costs to purchase the stand. For businesses on a strict budget this exhibition season, leasing a stand rather than buying outright is a great way to keep costs down while ensuring the event is a success.
Mark Thompson, Co-Founder of Printdesigns, says, "At Printdesigns, we're always looking for ways in which we can offer customers high-quality products that won't break the bank. By hiring one of our digital stands for a week, businesses can add a show-stopping stand to their collection, with the ability to show HD video, images and audio that will certainly draw in the crowds."
The freestanding digital display stands have a built-in HD media player, so there's no need for extra equipment like DVD players or PCs to be connected. Simply pop in a USB stick loaded with your videos or images, and plug into the back of the digital display – files are instantly transferred and can be displayed in seconds. In the absence of a USB stick, the stand comes with HDMI and VGA inputs, to connect with almost any external device.
The slimline design of the stand is stylish and contemporary, with curved edges and a buttonless tempered glass front – the ultimate in modern minimalism. Ideal for the corporate events, the slick exterior is fitted with commercial-grade panels which enhance colour contrast and brightness variation, so your images and videos will look sublime in any lighting conditions.
Mark adds, "Stands like this are a fantastic way to attract the attention of passers-by, and keep them lingering by the stand while they wait for the video to finish. For the businesses out there hoping to boost their leads and attract higher visitor numbers than ever before, leasing the premium digital display stand offers the perfect solution."