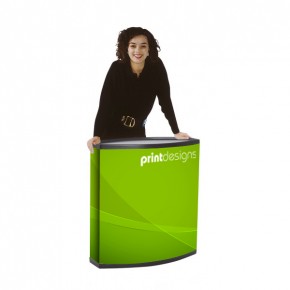 Compared to businesses that can afford the expensive display stands and extravagant booth designs, it may seem that your brand cannot compete. However, we are here to tell you that you are wrong! While flashy banners and towering teardrop flags can attract the eye, nothing beats good old fashioned face-to-face interaction and a welcoming booth.
Presentation 
First impressions are all about looks. Using whatever is at your disposal to make your booth more visually appealing is vital when attempting to attract visitors.
From leaflets, business cards, posters and everything in between; organising your area into an accessible, easy to navigate space increases your chances of attracting and keeping visitors to your booth.
No one wants to be stuck in an enclosed space with nothing to look at. Rather than using your most appealing material outside, move it inside to make sure the visitors you do attract, stay.
Staff
Those who work for a brand act as ambassadors. The way they behave tells visitors more about your brand than any marketing material ever could. Make sure that those who are working the booth are enthused, easy to talk to and approachable. There is nothing worse that feeling like staff are unapproachable and do not want to be there.
Do your staff know the brand inside out? Make sure that they can rattle off information in their sleep. People who are passionate and confident when selling a brand pass that passion and confidence onto the visitor.
Another key point with regards to staff is to make sure that they don't jump on unsuspecting passers-by. We have all experienced the horror of trying to avoid someone in the street who we would rather not speak to. If you wouldn't like it, would your visitors?
If you see someone nearby showing interest in your booth, approach them and let them know what you offer and how it can help them. That way said individual can decide for themselves whether your space is for them.
Come back and talk 
Informing visitors on your products and services is vital but giving them the room to think about what you have told them is utterly crucial.
Making individuals feel like they have to make a decision, purchase or commitment to something on the spot is anything but beneficial. While you may experience a rise in the number of visitors, putting pressure on them does not mean they will keep coming back.
Giving someone the chance to consider certain information and make their own decision is important as it means that the visitors you get coming back are the ones who will stick with you and your brand.