With competition tougher than ever, Printdesigns is lending businesses a lifeline by offering completely unique and standout ideas for promotion and marketing. Rather than follow the masses, the UK company offers exclusive and versatile products which can be used as retail displays, in office presentations or seminars and at trade shows and exhibitions.
The brand is known for its high quality and affordable displays, portable banners and marketing accessories. It offers the best in the industry but also brings exclusive products which can only be found on the Printdesigns website. The TEXstyle range of fabric banner stands is the company's largest exclusive collection and gives a distinctive look as well as an array of benefits.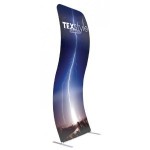 The TEXstyle display stands are available in a wide range of shapes and sizes, with a business' chosen graphic printed onto a piece of fabric instead of PVC. Compared to a traditional portable display stand, TEXstyle products are more lightweight, easier to transport, safer to store and last for longer. At the end of life stage they can be recycled with textiles and above all, they attract attention because they look distinctively different from other banner stands.
Mark Thompson, Co-Founder of Printdesigns said, "Since the release of our TEXstyle range, we've had more and more customers switching to the fabric stands. The curved banners are especially popular because they stand out in a crowd, so are great for creating eye-catching banners for exhibitions. They are also much more practical than conventional heavy pop up displays, and can boost environmental credentials as TEXstyle stands are a greener option."
Another interesting way to promote a business is to make a display even more portable – by attaching it to a person. Printdesigns' body banners come in a huge selection of flag shapes and sizes, and are designed to push certain brands, messages and products. Body banners can also be used in a non-business context, such as during protests or at student fairs and sports events.
Another useful, exclusive product from Printdesigns is the EXPOBOX wheeled carry case. This can replace a suitcase for transporting goods or marketing brochures, and can publicise a business on the move. The robust cardboard box has an ergonomic pull up handle, and a carrying capacity of 15kg. Carrying it around a trade show, a train station or just the office will instantly boost professionalism and credibility.
For innovative businesses who want to break the mould and stand out from the crowd, Printdesigns is the place to seek out unique marketing materials.