www.printdesigns.com can produce backgrounds with a step/repeat pattern of logos for photo opportunities, awards, presentations and events. We need only the various logo files to create the layout and will send a proof for approval prior to production.
---
In terms of how the backdrop is produced, there are several options outlined below. All of the options recommended use a single piece of fabric for the print so there are no visible seams or joins in the face of the graphic.
Printdesigns do not recommend using old fashioned displays such as magnetic pop up stands for the production of a presentation background for two reasons:-
Older magnetic display systems typically use roll panels which means visible seams in the graphic face – this does not look good when photographing subjects in front of it.
PVC or rollable graphic materials can create glare or bounce-back under some lighting conditions. Fabric on the other hand creates little or no reflection thus making it the perfect media for a presentation backdrop.
---
If you have a limited budget then our Pegasus stand is a cheap option. 2.2M tall and up to 2.4M wide this is a simple frame that supports a piece of fabric with a loop at the top and bottom.
The Pegasus banner is a great option if you are on a budget but due to the way that the graphic is tensioned only at the top and bottom, it is not possible to get quite as flat/smooth finish when compared to the alternatives below.
Weight: 10KG Max
Size: 2.2M tall x 1.5-2.4M wide
Ease of Transport – Soft bag can be carried by hand

---
This is a collapsible frame that supports a fabric graphic that is attached with velcro. The link below shows the product and if you study the second video down, you can see how a step/repeat backdrop was produced here for a previous customer.
Hop Up Stands have been around for a number of Years. The only drawback with them is that if you store the print folded, you can end up with creases in the fabric that take some time to fall out naturally. You can steam or iron the fabric but obviously it's not always practical to do so when setting up for an event!
Weight: 20KG Max
Size: 2.2M tall x 2-3M wide
Ease of Transport – Wheeled case, cannot be carried easily by hand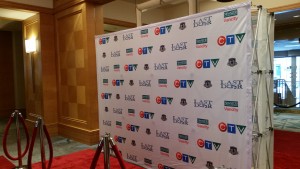 ---
This is our newest type of straight backwall display and the one I most recommend. The framework is a simply push-fit aluminium tubular affair and can be assembled in 5 minutes. Rather than having to manually stretch the print over the frame, you pull it over like a giant sock.
Unlike the older Hop Up stands, the fabric used is highly elastic and stretches to remove any wrinkles instantly.
Weight: 10KG Max

Size: 2.28M tall x 2-6M wide

 Ease of Transport – Soft bag can be carried by hand
---
A high quality presentation backdrop is a great way of maximising exposure and publicity at almost any event. Attendees and visitors can use the backdrop for photo opportunities and the resultant pictures are widely distributed through social media platforms. As such, investment in a photographic background is usually worthwhile for almost any business.
For more information on step and repeat backdrops for awards and events please contact Printdesigns on 01785 818111 and our team will be happy to help.