Attending a trade show or exhibition for the first time can be pretty confusing – there's a lot to organise and you're not sure what to expect. Moreover, there's a lot of terminology being thrown around that you just don't understand! Fear not exhibiting novices, Printdesigns is on hand to explain everything. Not only do we provide you with quality low cost exhibition stands, but we'll also help you out with the planning and organising in the run up to the event with our blog articles. Now we're jargon busting for you – read on for a glossary of popular terms you may hear:
AV technician – AV simply stands for audio-visual. Most events will have a professional which deals with on-site lighting, sound and any other staging needs.
Beamer – LCD projector
Booth – this is the American word for an exhibition stand or allocated space.
Conference pack/kit – A collection of documents and event materials handed out at registration. Usually contained in an envelope or folder. Can also be called a media kit or delegate/exhibitor information pack/exhibitor manual.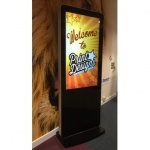 Digital Display Stand – An exhibition stand which supports LCD screens for an interactive experience.
Exhibition Plan – this is usually an image showing how the exhibition will be laid out, including spaces and booths to hire, walkways, facilities etc.
Early Bird Registration – many events will have an early bird registration, where exhibitors can book a booth at a reduced price.
Get in – the time allocated for staff and exhibitors to enter the venue and set up their booths.
Get out – the time allocated after the event for staff and exhibitors to dismantle their stands and leave the venue.
Lead time – the time between when event arrangements are made and when the event takes place.
Literature Holders – A portable structure which is used to display marketing material such as brochures, poster, flyers and catalogues.
Rental Booth – some events will provide booths which can be rented out, so exhibitors don't have to invest in their own portable stands and set it up.
Risk Assessment/Management – if you are attending as an exhibitor, the event organiser should have compiled a risk assessment, however exhibitors can also carry out their own, which is a good idea if you are bringing employees. Assess the risk of injury or loss by attending the event.
Shell Schemes – a commonly used way to divide exhibition booth space.
Traffic/traffic flow – the movement of people through an exhibition.
Withdrawal Fee – the fee agreed with the organiser in case you decide not to exhibit (usually a percentage of the fee)
Hopefully this glossary answers your first questions – get in touch if you need any further help!