The wedding industry is growing with bridal exhibitions going from strength to strength each year. The year's first bridal exhibitions will be taking place in the next couple of months, and Printdesigns is encouraging retailers to get prepared for the busy year ahead.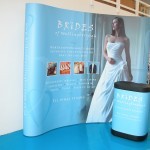 The 2016 London Bridal Show has already had to expand in size to keep up with demand, as over 150 exhibitors are already confirmed for the March show at Olympia London. It's the first main event on the wedding industry calendar and more than 2,000 visitors are expected to attend.
Mark Thompson, Co-Founder of Printdesigns said, "The bridal industry is a force to be reckoned with right now, and suppliers who want to stand out from the competition simply have to have a presence at these trade shows. Wedding exhibitions are growing each year, as brides-to-be attend in their thousands, looking to plan a wedding completely under one roof."
Indeed, as many businesses seem to be moving away from traditional face to face selling and focusing on digital marketing and eCommerce, the wedding industry is one area which is standing its ground. As an opportunity for brides to browse dresses, sample cakes, interview photographers, try on rings and check out entertainers and bands, wedding shows offer great value for visitors. The events are also a great prospect for suppliers, who can actively advertise to a very focused audience in just one day or weekend.
Mark added, "Bridal shows offer a fantastic opportunity for suppliers, but they have to be careful because most events are really huge. With hundreds of other wedding suppliers, many of which will be direct competition, it can be hard to stand out and persuade brides and grooms to pick your service.
"The key is making sure your stand reflects your business and you can chat to visitors without being pushy. Ask yourself the question: how are they going to remember my company name at the end of the day?"
Wedding exhibitions can be rather overwhelming for visitors, with so many booths to get round and interactive features to delight the senses. Exhibitors need to display an eye catching pop up stand which gives a clear and concise message to passers-by. If you are offering a special discount or running a competition, let people know about it.
Printdesigns are industry leaders in exhibition solutions including display stands, portable furniture, digital displays and branded promo items. The company offers high quality, affordability and expert graphic design advice for small businesses and entrepreneurs in the wedding industry.