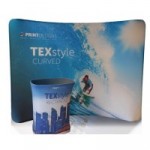 The standard pop up display gets a stylish new twist this week as print, display and exhibitions pros, Printdesigns launches its new range of unique TEXStyle display stands.
TEXStyle systems use one-piece stretch fabric graphics that slip over a lightweight tubular frame in a single, simple process. Printdesigns is the only UK supplier of these modern
pop up banner stand alternatives.
TEXStyle display stands give a nod to the future of exhibition stands; one without fear of graphics being creased or damaged during the transportation and assembly process. One piece of stretch fabric is used for the TEXStyle stands graphic, rather than numerous heavy magnetic panels that require alignment. Even the frame is easy to use; sections of strong, lightweight aluminium tubing are held together with bungee cord. Matching stickers show exactly how to fit the pieces together. Altogether, the fabric graphic and aluminium frame of a typical TEXStyle backwall display is less than 1/3rd of the weight and volume of a traditional pop up stand.
Time that used to be spent on setting up stands at exhibitions is reduced; ensuring businesses get the ultimate in convenient visibility quicker than ever.
Mark Thompson, Sales Director of Printdesigns, says, "We know how challenging traditional banner stand designs can be to transport and carry around from trade show to trade show, as well as how lengthy and confusing assembly methods can be when dealing with multiple parts and large displays. TEXStyle display stands make the whole process easier and more effective and they're also stylish, eye-catching, durable and cost effective.''
Printdesigns is unique in that it is the only supplier of TEXStyle fabric displays with all print production done in house. This means that as well as saving time on the day of the event, the run up lead-time is also reduced and a quality product is guaranteed. Without the fear of folding, creasing or ripping, the lifespan of each stand is significant. The fabric can even be machine washed after use for a fresh and unique stand time and time again.