With many modern display stands, you have the option of replacing the graphics whenever you want. This is much better for the environment, as you won't be throwing away an old base and having a new one built, and it also saves you money as you won't have to fork out for the entire new stand. You can replace the graphics panel whether it is a traditional PVC graphic or a textile graphic panel from a TEXstyle fabric display stand.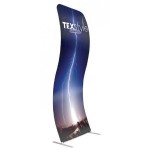 There are many reasons why you may want to change the graphics, and there are no rules for how often they should be replaced. Here are some common reasons why people feel the need to order new display stand graphic panels.
Wear and tear
If you attend exhibitions a lot, your poor exhibition stand might start looking a bit tatty after a while. After all that setting up, packing down and being transported all over the UK (or the world) the graphics may start looking tired. A bit of wear and tear can occur over time, and a new graphics panel will breathe new life into your stand.
Out of date information
Businesses can change information from time to time, whether it's a new telephone number or website or a new tag line for the company. Make sure your marketing material stays up to date by having a new graphic designed with the new info clearly displayed.
New product/services
If you're expanding and can now offer more products and services than when the original banner stand was designed, you may want them adding to your display. Alternatively, you may want to focus on your flagship product and have a display stand just advertising that.
Rebrand
If it's time for a rebrand, then you'll need a new graphics panel with your fresh new logo, company name and graphics. It can be expensive having to replace all your marketing material, but at least this will cost you less than buying a new base and stand together.
Alternative Panels
You may feel like you want to replace your graphics now, but there will come a time when you can re-use your old graphics panel too. It's fine to have a number of graphics panels which you can switch between. This is a great idea if you attend a number of different types of events where you have to cater to different audiences. Just make sure you keep your graphics panels safe in storage for when they need to be used.
If you need any help ordering a replacement graphics panel from us, just get in touch.