As consumers continue to engage with technology and brands in new ways, Printdesigns is urging businesses to take advantage of digital signage at their next marketing event. Whether it's a promotional stand or an exhibition, digital display stands can attract and interest passers-by.
There are plenty of statistics which support the notion that digital signage is the future. Advertising and marketing has to move with consumers, and as consumers become more attached to technology, brands must adapt. Video content has seen a surge in recent years, and it has proven to be a highly successful form of marketing. 90% of users agree that seeing a video about a product is helpful in the decision process, and 80% of users can recall a video ad they have seen in the last 30 days, according to Online Publishers Association.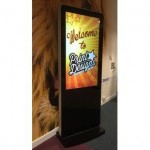 Digital display stands from Printdesigns can display a range of media, including video and audio. They can also be used for slideshows and different still advertisements, so businesses can display more content than a traditional banner stand.
Mark Thompson, Co-Founder of Printdesigns said, "If you're looking for a way to stand out from the crowd, especially at trade fairs and exhibitions, a digital display stand is a great choice. People will be more likely to be intrigued by your stand, and will stick around to watch videos or slideshows on the display. Moving content is much more engaging that static, and a large LCD screen will definitely catch the attention of potential customers."
Digital exhibition displays have a lot of advantages in terms of value and cost. The content on the displays can be easily changed and updated without any costs involved to reflect the brand image of certain products you'll be promoting. This saves having to buy a range of different pop up stands for different events and audiences. The ability to upgrade and revise graphics and content can actually offset the initial cost of a digital display stand, as businesses can use it for years and years to come.
However as leaders in the industry and supporters of small businesses, Printdesigns knows that some companies can't afford to buy a digital display stand outright. So that these smaller organisations can still benefit from digital content, Printdesigns offers a hire service on a range of digital posters and displays, for businesses which require the stand for a short period of time.