Trade shows and exhibitions are really long days – and if you're there for the weekend, you'll be even more excited for the get out. Packing down is your last job of the event, but be sure you don't relax too soon, as this can also be a difficult task! We've already gave our tips for a stress free set up, so now here is some more advice for breaking it all down after the show.
Don't do it alone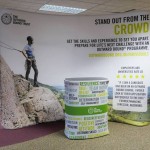 As the event comes to a close, it usually gets less busy and things start winding down. At this point it may be tempting to let your helpers go home early – we strongly recommend against this! You don't know what troubles you may encounter during the packing down, so it's always better to have extra helping hands. If you have a problem and you're alone, you'll find it difficult to find any help and the whole experience will be a lot more stressful.
Practice packing the stand away
If you're using a new display stand then you must have a practice beforehand! Even if it's a pop-up stand and you think it mustn't be that hard to assemble and pack down, you know how life goes – you'll have some difficulty getting it back in the bag. Have a few practices at setting up and breaking down, and you'll figure out any awkward bits.
Prepare for delays
Don't expect to be home half an hour after the event is finished – even if you do live around the corner. All the exhibitors are packing down simultaneously, trying to load everything into their cars or vans and get away. This means one thing is for certain – delays. Even if you pack your stand away fast, you may have to wait in a queue at the loading bay. Don't stress – just chill out and have some more coffee and cake.
Keep all data safe
This is mega important – keep everything organised during the get out. You should especially look after all the data you've collected at the event, including those important contact details of leads and possible business contacts. Keep them in a special file in a safe place, so they don't get lost or packed away with other things.
Plan your next move
While you have all this time to kill, waiting for your spot to get out, don't just switch off your sales mode. Think about what you're going to do next as part of the marketing plan. Attending exhibitions is pointless if you don't follow up – so run through some ideas in your head so they're fresh in your mind for the next day.
Hopefully you'll have a hassle-free exhibiting experience with all of our tips! Feel free to contact us with any of your own exhibition tips.