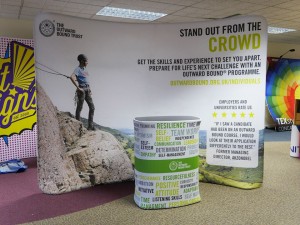 Charities and not-for-profit organisations need to promote their activities and attract supporters, and many of them are turning to portable solutions company Printdesigns. When a charity needs a banner stand or a specialised display, Printdesigns is the obvious choice as it consistently offers the best value in the UK for display stands.
The company, based in Stafford, have worked with many high profile charities directly including World Vision, British Red Cross, PDSA and the Stroke Association. Printdesigns also works with many more charitable organisations through a third party which deals with the print outsourcing.
Mark Thompson, Co-Founder of exhibition stand supplier Printdesigns said, "It's a great privilege to help charities fulfil their portable marketing needs, and I guess it is no surprise why so many of them come to us. With the lowest prices in the UK, high quality printing and first class friendly service, we're always on hand to make sure charities and not-for-profits get the best display stand for their budget."
Whether charities need a large banner for a fundraising event or a pop up stand for a demonstration, Printdesigns guarantees the best price. It's one of the only companies in Britain which designs, prints and manufactures every aspect of every product in its own warehouses, without outsourcing production overseas. This is how the company can ensure top British quality and keep prices low as it doesn't have to pay shipping fees from Chinese factories. Additionally Printdesigns has total control over delivery and can even complete rush orders in an emergency.
Even though the starting prices are already the lowest around, Printdesigns also offers a budget category, including the bestselling budget banner stands duo – 2 for £75 + VAT or £39.50 each. These heavy duty, lightweight stands are easy to transport and assemble for volunteers working at charity events.
Exclusive to Printdesigns, the TEXstyle range of fabric displays are a larger investment but will stand the test of time. With graphics printed onto textiles rather than PVC, the majority of the stand can be folded and even washed to extend the life of the product. This is also an eco-friendly option as the fabrics can be recycled, so a great choice for environmental charities.