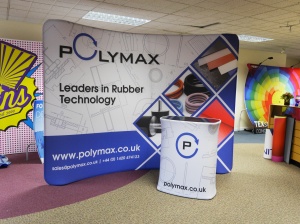 Welcome to our budget-focussed series of blogs – exhibiting on a shoestring. The budget savvy experts at Printdesigns, the UK's best value for money display stand manufacturers, share their tips for exhibitors on everything from planning in advance to drawing more people to your stand.
Today they are sharing some graphic design tips with exhibitors from all industries and sectors – but it's nothing technical! The biggest piece of advice the Printdesigns team have is to decide the design of the stand early – DO NOT leave it until the last minute.
When designs aren't finalised well ahead of time, this means the final design has to be rush-approved. Whether the colours aren't a perfect match or you haven't yet figured out the quirkiest tagline to represent your brand, you'll be compromising the effectiveness of your display stand – and therefore the effectiveness of your exhibition. We know there are some special circumstances where it's not possible, but most of the time there is no excuse for not finalising the design of an exhibition stand in advance.
If you need help with your graphics that's not a problem – our skilled graphics design team are on hand to answer any questions or assist in the design phase. But you still need to give yourself enough time to make revisions and decide on the finalised design, before it gets sent to the printers.
It's really important that businesses – especially small businesses and start-ups – get their display stand right the first time. It will save a lot of time, effort and money as a well-designed, branded pop up stand can be used for years to come at a range of events. It can even stand in the office to impress business guests when it is not in use at a public marketing event! But the more you rush the design stage, the more likely it is you won't be happy with the final product and will end up spending more crucial money on the exact same stand.
Are you exhibiting on a shoestring – what tips can you share?