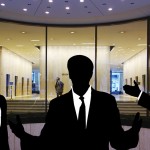 A great opportunity for exposure to new audiences is arising for businesses across the world, as more and more trade show organisers are partnering up to run co-located events. Companies can streamline their marketing efforts to draw in the untapped customers brought in by the partnerships with the range of high quality exhibition stands on offer from PrintDesigns.
A study by the Exhibition and Convention Executives Forum Pulse revealed that almost half of the executive event organisers questioned were looking to co-locate their shows within the next three years, with an outstanding 44% agreeing to this move. The study also showed that the 48% who were already involved in co-location agreements were very or somewhat likely to continue these into the future.
Trade show organisers could be motivated to form strategic event partnerships as a way to add value to their shows. For those who have been running for years, it is an instant way to inject new interest into the events to make them an unmissable occasion. Exhibitors can take advantage of this rising trend by utilising the exposure to a plethora of new business contacts that these partnerships can bring to them.
Mark Thompson, Co-Founder of Printdesigns said, "When trade show organisers join forces for a co-located event, they are presenting a new set of solutions to their consumers. Rather than random partnerships for the sake of necessity, organisers will collaborate based on the individual offerings of each show, and the combined benefit each can bring to their audiences. Companies who are exhibiting at a co-located event should seize this opportunity as a way to be seen by a fresh market. Not only can this bring in new business, but it can help organisations explore new sectors that can help them form the most targeted business offering that they can".
To prepare for this onset of new business, exhibitors at a co-located trade show must be sure that their brand message is professionally reflected in their exhibition stand. The UKs leading printing solutions provider PrintDesigns offers a remarkable range of roller banners, display stands and pop up displays in a variety of styles and sizes to suit all booth requirements. With an in-house team of expert graphic designers, they are on hand to assist in ensuring every piece of material printed by them is the best quality is can be.