Great for small spaces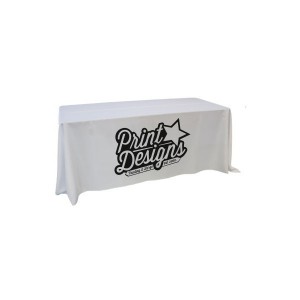 The race to secure the best spot at an exhibition can often result in spending lots of money, with the largest spaces coming with a considerable price to pay. Reducing your exhibiting requirements to centre around a table top can dramatically reduce the space required for your company to successfully spread a brand message, meaning spends on bigger booths are reduced. Switching to this more compact method also means that you are not limited to which exhibitions you attend, and can pack a punch with any space that is given to you! With a Breeze Desktop or Tabletop roller banner stand, any design can have a large format impact, whilst taking up only A3 dimensions.
 Portable
Printed Tablecloths are a perfect way to transform any humble table or desk into a large brand advertisement! Even better, this printed fabric is both hard wearing and highly portable, easily washed, folded up and packed again from trade show to trade show. At PrintDesigns we use a full colour dye sublimation print process to ensure that your company colours and logos look crisp and vibrant from wash to wash, rather than using transfers to apply graphics to fabric, which can peel off and fade over time.
Encourage interaction
With a custom printed tablecloth drawing customers in and a desktop roller banner to cement brand message or display your services, the final piece of the tradeshow puzzle is complete by securing the all important face to face interaction with interested potential clients. Adding some chairs to your compact tabletop display can encourage conversation with your visitors, giving you a fully rounded and interactive stand without having to invest in expensive separate meeting areas.
Considering a table top solution for your next exhibition could save you money whilst relieving any space restrictions that come with using only large format materials. If an exhibition cannot provide a table to use, investing in a pop up counter can also ensure the benefits of a tabletop display are taken with you at every exhibition you attend.