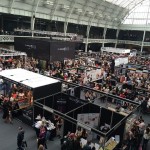 Even if you have never attended one your self, if you have ever worked at a B2B or B2C organisation it is more than likely that you will have heard of your company regularly attending trade shows across the nation and maybe even the world. These events are a popular tool in any sales persons handbook. When assisted by an effective marketing team and approached with a well thought out strategy, they are a valuable part of the business process.
We have been helping businesses to harness the success that is waiting to be enjoyed at trade shows for over 15 years, with our range of exhibition display stands. Using our experience, here is why we feel organisations should remember the importance of these crucial events, and form a structured strategy and eye-catching display stand to reach their trade show targets.
Targeted Leads
If you choose your trade shows wisely, they are an incredible platform for networking within highly targeted business or audience sectors. Knowing your brand, and whom you are marketing it towards can help you to choose with shows to attend, in order to be seen by the people who are genuinely interested in what you have to offer. In a world of information and marketing overload, this kind of niche opportunity is one not to be missed.
Simply browsing online or on social media will allow you to get an overview of who else is attending the show. Using this information, businesses can establish hot leads to approach once there, helping to form an effective strategy for the sales team.
 Boosting your Brand
As well as placing you in front of your target customers, a trade show is the chance to project your brand message to those who matter most. Whether you are having a change of direction or are simply re-enforcing your company ethos, a well-designed display stand can help to spread your message loud and clear!
 Check out your Competitors
Any business leader knows that keeping an eye on competitor brands is key to ensuring you always stay one step ahead. If you are in a specific industry, it is more than likely that your main competition will be at the same events as you to try and target the same lucrative market. Make sure to take time out from attending your stall to take a walk around the other exhibitions stands on offer. As well as knowing the latest developments from your rival companies, you could also discover new and up coming brands that are entering your market.