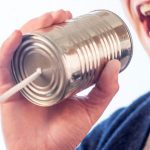 It's no secret that we love printed products at PrintDesigns. If you ask any member of our team they will be able to tell you in full detail why a great looking display stand or any other kind of exhibition stand solution can help your business to excel expectations when attending a trade show. However, we are not oblivious to the 'elephant in the room' that is content marketing, and this marketing buzzword is something that all companies should be paying attention to. While a custom printed pop up display stand can make your booth look fantastic, online marketing using great content can help to build up a buzz around your trade show appearance, long before the event actually takes place (and can even be useful in your marketing efforts once the show is over, fully leveraging each attendance). If you want to make the most of your next exhibition, here is how to use content marketing to secure trade show success, and beyond.
Before
Publish relevant whitepapers
Your industry peers will be attending each trade show in order to find answers to very specific problems. Research what these problems are, and showcase your businesses expertise by writing and publishing the whitepaper around the subject. In the lead up to the exhibition this can help to give your company an authoritative voice in the area, resulting in many people coming to your booth to learn more.
Research the trade show's hashtag
In this digital age, most trade shows and exhibitions will have a hashtag and their own digital marketing strategy of their own. Research what each trade show is doing and take the opportunity to use it to promote your own business. Use their dedicated hashtag, join in on their online conversations and even approach them to see if there are any possibilities to be featured on their blog or social media pages before the event.
During
Trade shows can be very exciting, and publishing live updates via social media can ensure that potential clients who weren't able to attend the exhibition can also experience what your brand is up to on the day. Using these live posts it is possible to then form further content once the event is over, using it to help build up a 'timeline' or review of the day, and you could also gain more online followers from new clients also attending the event by being involved in the live, digital action.
Connect with industry insiders
Industry insiders and experts can often be found at their relevant events and trade shows. Try to locate those that matter the most to your brand to secure interviews, videos or even a guest blog post from these influencers, resulting in some great, targeted content for your business.
After
Write an 'event round up' blog post
Once the day is done and the dust has settled, use your social media posts, images, videos, interviews and more to create an engaging blog post, summarising the trade show.
Publish your presentations online
If experts from your company gave a presentation at the trade show, don't miss out on the opportunity to share it online. Publish these presentations on a website such as SlideShare, or simply as a downloadable PDF for your clients to consume. Similar to the whitepaper, this can help to make your brand become a trusted voice amongst your industry community.
At PrintDesigns we offer a huge selection of display stands and other custom printed solutions to support your businesses marketing efforts. Ensure your exhibition stand looks its best, enabling you to create great content at your next trade show, and browse the full range of solutions online.