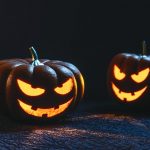 Whether you love it or hate it, the world is getting seriously spooky this month as the Halloween celebrations grow closer. And this fancy-dress fuelled season offers a unique and exciting opportunity for businesses to launch creative, fun and downright scary marketing campaigns. Don't hide away -embrace this weird and wonderful time of year! Here are 4 Halloween marketing ideas (that are frighteningly easy too…)
Competition time!
Halloween is a time known for imaginative fancy dress and extravagant outfits, as well as creative crafts and spooky sweet treats. Challenge your customers to a competition, judging their outfit, their creations or their cookery – whichever is more appropriate to your businesses. The winners could simply enjoy fame on your brand's webpages, or you could offer a discount on your products for the winning entry.  Not only will this be lots of fun for everyone involved, but it will create an exciting, interactive and engaging social media campaign that can help to grow your customer base, while keeping your existing ones loyal.
Get in the spooky spirit
If you're in the hospitality business, running a bar, restaurant or similar, draw customers in with incredible Halloween décor. Kitting out your venue with devilish decorations will show that your brand has a personality, acknowledging the events that are also on your customers' cultural calendar. For added effect, why not launch a limited edition spooky menu or run themed nights, showing off your businesses in an exciting way.
Create themed bundles
Use your imagination to create bundles of products that can be sold together, appealing to the trends of the season. For example, a makeup brand could package up its goods in costume-ready kits, or a food company could sell bundles of goodies and treats that provide everything needed for a fun Halloween party. This can apply to almost any business and if you are stuck for ideas, even offering 'spookily good prices' with limited edition offers can be the perfect way to take advantage of this wonderful marketing opportunity.
Go trick or treating!
For children, dressing up as scary characters and spooking their neighbours is an integral part of Halloween. Why not turn this tradition on its head while drumming up new business? Make up goodie bags with sweets and small toys, as well as your business card, flyer or other kinds of marketing collateral, ready to give out to local companies who could be interested in your services.
Of course, alongside seasonal campaigns such as these suggested, attending trade shows and conferences is a scarily good way to promote your business all year round. Browse our range of exhibition stands and pop up displays online to build a professional looking display stand at every event.