When designing a corporate trade show booth many assume that the exhibition stand options available to them are quite limited, and as a result many exhibitions and conferences are awash with identical trade show solutions and similar looking stalls. The reality of this is quite different, and at PrintDesigns we have a diverse variety of display stands to suit all stand sizes and budgets, helping our clients to stand out amongst the crowd. One category that we offer is the 'pop up stand' and even within this singular stand type we have a wide range of styles on offer. Before you purchase that same old solution, read our guide to the many pop up stands on offer at PrintDesigns.
These display stands are a quick, easy and cost effective solution for businesses on a budget. Always a reliable way to leave your stamp on any exhibition, this style is highly popular amongst a wide range of sectors and you are sure to see many booths using an express pop up stand solution during your busy trade show schedule.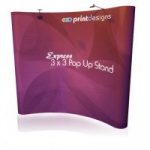 With a slightly bigger budget, these exhibition stands can help any company dress their booth to a high quality, professional standard with this top of the range model. Due to the interlocking framework the graphics are re-enforced with greater stiffness, providing a sturdy and sophisticated solution.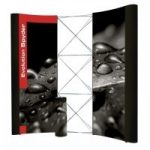 If your brand has a diverse range of video marketing material, a pop up stand with integrated screens can showcase your business in an eye catching way. Whether you have an incredible promotional film, advert or practical product demonstration, stream the benefits of your business to a wide audience with these robust display stand solutions. Each pop up stand is capable of holding a large format screen up to 60" wide, and can also cater for 32" televisions.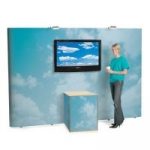 TEXStyle & Fabric Pop Up Stands
Our range of TEXStyle fabric display stand solutions give brands the chance to present their products in a totally unique way. And as well as standing out from other exhibition stands with its aesthetic appearance, these solutions and incredibly practical and easy to use. The rich, dye sublimation printed fabric graphics slip over the frame like a sock, and are simple to fold up and transport around from exhibition to exhibition. What's more, these innovative pop up stands can stay fresh for every trade show as the unique fabric is machine washable.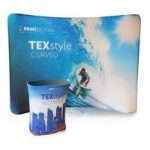 At PrintDesigns, we have been working in the trade show industry for over a decade, and have developed our range of display stand solutions based on the experience gained during this time. To learn more about our selection of pop up stands, or any other kind of exhibition stand models, get in touch with a member of our team today!