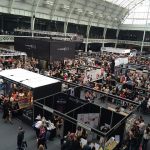 Exhibition season is coming soon and right now it seems that everyone is trying to find the wow-factor for their stand which is completely on-trend, but also totally unique. That will stand out at a trade show, but also fit in with their brand and what they're trying to say.
Believe it or not, it is possible. It's just a matter of finding the right components and putting them together in a brand new or innovative way. We've delivered hundreds of exhibition stands to clients over hundreds of trade shows, so PrintDesigns have plenty of experience when it comes to building a one-of-a-kind trade show stand.
Use light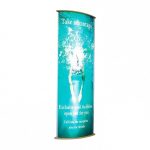 Trade shows are normally held in huge hangars or windowless halls. The industrial lighting from up above doesn't highlight any one brand or leave them in the shade; it washes everything with the same kind of wiped-out glow. But by using light in your display, you're creating a focal point that people want to flock to. Light makes people curious; they want to see what's happening. Whether you use a single stand or you use light as part of your modular displays, using light wisely can be good business.
Turn to fabric
Fabric displays push your stand head and shoulders above the rest by showing a little more care went into the stand creation. If your brand prides itself on quality, durability, and longevity, fabric can say all that without you having to put your slogan anywhere.
Fabric displays can also be moved into more interesting configurations than traditional exhibition stand materials, being as it is a little more easier to handle.
Up in the air
If you have limited space in a convention floor, you don't want to jostle your neighbours. Often, displaying at an expo and not making a good impression with your stand will mean you acquire something of a reputation within your field. But if you have more that needs saying or displaying, why not opt for a hanging display?
They not only bring a touch of something space-age to your stand, they're also good for bringing people over who will see your display from the other side of the convention centre.
If you're planning a big exhibition this autumn or winter, try some, or even better all, of these exhibition stand styles. You might be surprised at what happens.