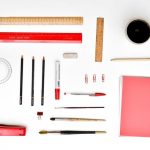 As we edge ever closer to 2017 words such as 'de-clutter', 'streamline' and 'organise' are on everyone's lips, used to help us devise our New Year's resolutions with the aim of leading a stress free, productive life. In business, applying the same mind-set to your marketing strategy can also help to make positive changes, improving the future of your company. Here we focus on the trade show booth, offering some simple tips for exhibition stand organisation to leave more room for your marketing message to breathe and your sales to come flying in!
Define your space
Each conference and event hall for every trade show you attend will have a different set up, allocating booths and exhibition stands differently. While some may have clearly defined areas for each exhibitor, make a habit of taking the right tools with you that can be used to mark out your brand's territory, no matter the situation you are faced with! When using a roller banner stand or any other kind of portable display stand solution it is possible to create a wall that displays your branding, creating a space that your customers will know is yours.
Invest in a literature stand
Delegates attending a trade show will expect to leave the day armed with knowledge from businesses that can potentially solve their problems. Literature such as leaflets, booklets and flyers are a great way to ensure everyone who attends your trade show booth can take away the benefits of your company to discuss with their colleagues the next day. Rather than scattering your flyers on a table where they can easily get messed up, or hiding them away behind a counter, invest in a literature stand so that your brochures and hand-outs are easily accessible and don't clutter up your exhibition stand.
Use portable furniture
Furniture can help to turn a simple trade show booth into a fully functioning, streamlined space. Although not all exhibitions offer furniture to their exhibitors, using portable furniture means that your business can create a show room, meeting room and discussions area in any booth you are given! Pop up counters can instantly make a reception type area where a sales person can be based for customers to approach. This would be a good place to display your literature stands too. For more formal discussions, use café coffee tables and bar stools to make a small but perfectly formed meeting area.
With the right exhibition stand solutions, any trade show booth can be utilised and organised effectively. Get in touch with a member of the team at Printdesigns to learn more about the products on offer to make your next exhibition a success.