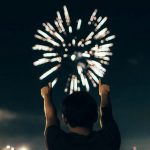 December is here which means 2017 is only around the corner! Whether your New Year's resolution is to get fitter, stop smoking or to take up a new hobby, at Printdesigns we believe that this new beginning also offers businesses a chance like no other to kick bad habits and prepare for a successful New Year. Here we run through a few simple ways to update your trade show strategy to enter the next season of exhibitions with a bang!
Re-assess your exhibition stands
While some businesses prefer roller banners, others use large-scale shell scheme exhibition stands. Whichever is your favourite kind of display stand, take the time to re-asses the contents of your trade-show toolkit this New Year. Throw away out-dated banner stands to reduce stress-inducing clutter and consider investing in fresh, modern roller banners if yours are tired and worn looking. Finally, browse our website to learn more about the latest developments in the industry – our range of exhibition stand solutions is constantly growing and adapting to changes in the market. If you've been using the same kind of pop up stand for years, now may be the time to look at newer alternatives!
Make sure your literature matches your offering
Every business transforms dramatically over the course of the year, and your trade show presence should reflect the latest ethos and developments in your company. Refresh and update your literature to include correct information, keeping customers in the loop and aware of the direction in which you are moving.
Shake up your follow up
Lead generation and nurturing is changing, with traditional salesman techniques diminishing in favour of personal methods. Create detailed forms, or train your sales-people so that they can fully understand the needs and wants of everyone they meet at your trade show booth. Armed with this information you can then use your follow up to show that you have considered their problem, and offer them real, personalised solutions of how your company can help. Approaching with this kind of tactic can keep the conversation open for much longer, leading to a better post-exhibition success rate.
At Printdesigns we're also changing this New Year. We will be launching an updated website offering new products, designed with the customer experience in mind. Until then, happy Christmas from the team at Printdesigns!