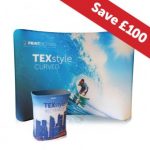 The sense of 'fresh beginnings' that many associate the New Year with can undoubtedly be applied to business, with the temporary Christmas closure making way for a welcome break as CEOs and management contemplate their approach for the next 12 months. Printdesigns, a national wide format printing company highlights the great deals available across its marketing solutions, helping business owners start their New Year in a print-savvy way.
Budget roller banner stands – a best seller for the company – are available on sale now at just £39.50 each, with further savings to be made if two are bought together for a total of £75.  Those looking for a more extensive trade show or in-store solution can grab a great value complete pop up kit for under £500, offering high quality graphics, lighting and a portable table-top counter for a fraction of the price commonly seen on the market.
Mark Thompson, Co-Founder of Printdesigns said, "Our customers come first at Printdesigns and we are constantly striving to offer the best value deals around. As we produce all of our products in-house we don't have any over-heads or middle-men to pay, meaning we can commit to keeping our prices low."
Wide format printing solutions such as banner stands, outdoor A-boards and POS display stand products play a key role in the marketing strategy of many businesses across the country. Whether used in a retail, office or conference environment, these custom printed tools increase brand awareness and drive sales, tailored towards helping organisations meet their individual targets. Printdesigns understands the effectiveness of its range of solutions, offering bundle deals and promotional packages that allow its customers to reap the business benefits at a much lower cost.
The innovative range of TEXStyle fabric display stands are also included in the selection of special deals from the foremost printing company, giving customers the option to grab a premium range at bargain prices. A single TEXStyle banner stand is offered for £185 (£30 less than its usual price) while an oval or fabric TEXStyle bundle comprising of a high-quality printed graphic and matching counter is available for just £550.
No promotional toolkit would be complete without giveaways, and Printdesigns has this covered with 50 of its personalised contour ball pens on offer for just £25 with every order.
Businesses looking to start the New Year in a print-savvy, money saving way can browse the full range of special offers online.