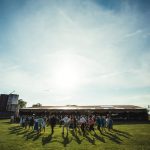 The clocks have gone forward and the weather is brighter – now is the time to embrace outdoor events! Now spring has begun, heading outside is the perfect way to leverage this seasonal marketing opportunity. From family fun days to crafty markets, if you're planning an outdoors event this spring, here's a simple guide to follow to ensure it is successful!
Choose your venue carefully
Just as every open-air event will have different requirements, various potential venues will have differing facilities to offer. Consider features such as the number of restrooms, catering options, included seating and parking spaces available when choosing place to plan your event.
Consider power
In 2017, almost everything needed to run a great event will require electricity to run on. Failing to plan your power supply can result in a corporate catastrophe. Always speak to the venue owner about its outdoors electricity supply so that you can organise additional facilities if necessary.
Be aware of the regulations
If you've attending any kind of large scale external event recently, you will be aware of the impact that local regulations can have on the entire day, or night. Depending on the area, there will be noise ordinances to adhere to, as well as health and safety codes to follow. If you don't, your party, conference or market may be closing sooner than anticipated.
Investing in directional signage
Outdoor venues are usually large, vast spaces. In order to create smaller sections and ensure your visitors make their way round your venue successfully, directional signage is essential. Outdoors display stands are perfect for this. Solutions such as A boards have interchangeable graphics, enabling you to quickly change it throughout the day, while premium quality café banners can cordon off areas in an instant. Banners with added illumination ensure information can still be seen when night falls.
Prepare for the British weather!
Although we are in spring, heading closer towards summer, this doesn't mean that great weather is guaranteed. Ensure there is a 'plan b' indoors option, or create covered areas using custom printed gazebos to keep your facilities, and your guests dry!
The prospect of planning an outdoors event can be daunting, with so much to consider but when it's done right, it's a great way to add a seasonal boost to any marketing strategy. Browse our range of outdoors displays to add branding to your event this spring.