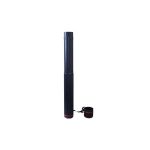 Everyone knows that a damaged and dirty looking exhibition stand gives an unprofessional appearance but keeping your banner stands and display stands looking great and fresh is easier said than done when exhibition attendance requires a lot of travelling.
Trade shows are a great way to get your company's message out there and generate new leads, as well as engaging with current customers. Your exhibition stand plays an important role in how your company is perceived, try following these dos and don'ts to make your stand last longer.
Do:
Do store materials in graphics tube – Whenever you're not using your banners and display graphics roll them, with the image facing up, and place them inside a graphics tube. It'll stop them from becoming creased and wrinkled, as well as preventing moisture and other elements from affecting them.
Do clean your materials carefully – Your display materials will no doubt get dusty and dirty at some point, despite your best efforts to prevent it. Your banners and displays can be cleaned but you'll need to do so carefully and gently to avoid ruining the graphics. Be particularly careful around the edges – this is where exhibition materials can quickly start looking worn.
Do pick quality marketing materials – Whether you're looking for a roller banner or a pop up display, choosing good quality marketing materials can save you money in the long run. While you may be working to a strict budget, spending extra on your stand initially could mean it will last far longer.
Don't:
Don't use your indoor displays outside – Pop up stands, roller banners and other materials designed for indoors use are likely to become damaged if used outside, with slight breezes knocking them over and rain leading to marks. If you're attending a trade show outside it's best to get materials that are specially designed for outdoor use, these will have additional weight, stability and durability when it comes to unpredictable weather.
Don't rush to get everything away – Once a trade show has come to an end it can be tempting to quickly throw everything in the car in a rush to get home. However, failing to properly disassemble and store your items means they're more likely to get damaged as you transport them.
Don't stick additional materials to your stand – If you've got some extra information or are running a promotional offer you might think about sticking some additional materials to your stand. Doing this can easily lead to tears and marks though. Instead, display the extra information in a different way or consider having new banners and displays made to reflect the changes.